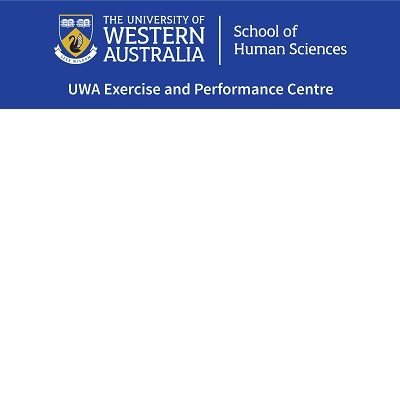 School of Sports Science, 35 Stirling Highway, Crawley WA 6009
The UWA Exercise and Performance Centre runs a number of tailored programs aimed at improving the improve health, function and quality of life of patients with a range of chronic and complex diseases. The exercise interventions provided are tailored to help patients meet their current goals, and manage their condition/s.
The Exercise and Performance Centre also supports the clinical training of students undertaking the Masters of Clinical Exercise Physiology, and where appropriate exercise services are provided by postgraduate students under the supervision of Accredited Exercise Physiologists (AEP) and allied health professionals.
List of Specific Programs:
Healthy Hearts – Cardiovascular rehabilitation program designed and facilitated by exercise physiologists with the aims of:
• Changing physical activity behaviours
• Preventing subsequent cardiac events
• Improving activity tolerance, muscle atrophy and circulation
• Improving quality of life, and
• Significantly reducing risk factors for comorbidities
Mediswim – Aqua based exercise rehabilitation incorporating strength, mobility and swimming to target metabolic disease or its risk factors. Exercise sessions are individualized and heart rate monitored. Benefits include:
• Improved insulin sensitivity and blood glucose management
• Reduction in weight and blood pressure
• Reduction in medication dependence
CanMoves – Exercise rehabilitation for patients at any stage of Cancer treatment. Aim to provide support, and through use of exercise as adjuvant therapy throughout the treatment process. Benefits include:
• Reduced risk of cancer recurrence
• Improved quality of life
• Improved management of treatment related side effects
Eligibility
Eligibility for programs is dependent upon the program the patient is enrolling in.
Of our three major clinical programs, two have eligibility criteria.
Healthy Hearts – Cardiac rehabilitation program for patients who have experienced a recent cardiac event.
CanMoves- Exercise rehabilitation for patients at any stage of Cancer treatment.
Gender Group
All (Male and Female)
Format
1 to 1 face-to-face service (eg counselling,advice), Group based multiple sessions
Meeting Location
Parkway, Car park Entrance #4 School of Sports Science, 35 Stirling Highway, Crawley
Meeting Times
Healthy Hearts: 11:00am Tuesday and Thursday Group classes or by appointment.
Mediswim: 10:00am Monday, Wednesday & Friday morning, 6:30pm Tuesday and Thursday evening.
CanMoves: By appointment. Aimed at being able to suit and fit around patients treatment and current lifestyle.