Reconciliation Action Plan
ConnectGroups is delighted to present its first Reconciliation Action Plan (RAP) to demonstrate its pledge and commitment to First Nations Australians.
This Reflect RAP (May 2021 – May 2022) is a partnership and organisational strategy which articulates how ConnectGroups will work towards greater understanding, cooperation, and trust with Aboriginal and Torres Strait Islander individuals, families, and communities.
ConnectGroups is committed to advocating for social justice, for the reduction of over-representation in rates of incarceration and out-of-home care, for self-determination, for the Gayaa Dhuwi (Proud Spirit) Declaration, for the adoption of the Uluru Statement of the Heart, and for Australia's First Peoples' voices to inform the development of policy, the implementation of reform, and at every level of society beginning with our own.
This Reflect RAP will drive ConnectGroups to ensure cultural competency, cultural safety, social justice principles and evidence-based practice are implemented across all service provision, providing a framework for the organisation to support the national reconciliation movement.
ConnectGroups commits itself to the path of reconciliation and to reflect and progress it in our daily work and in the values that underpin what we do.
Our commitment is real and inspired by the Uluru Statement from the Heart – to walk alongside our Aboriginal and Torres Strait Island brothers and sisters in a movement of the Australian peoples for a better future.
Click here to view ConnectGroups' Reconciliation Action Plan.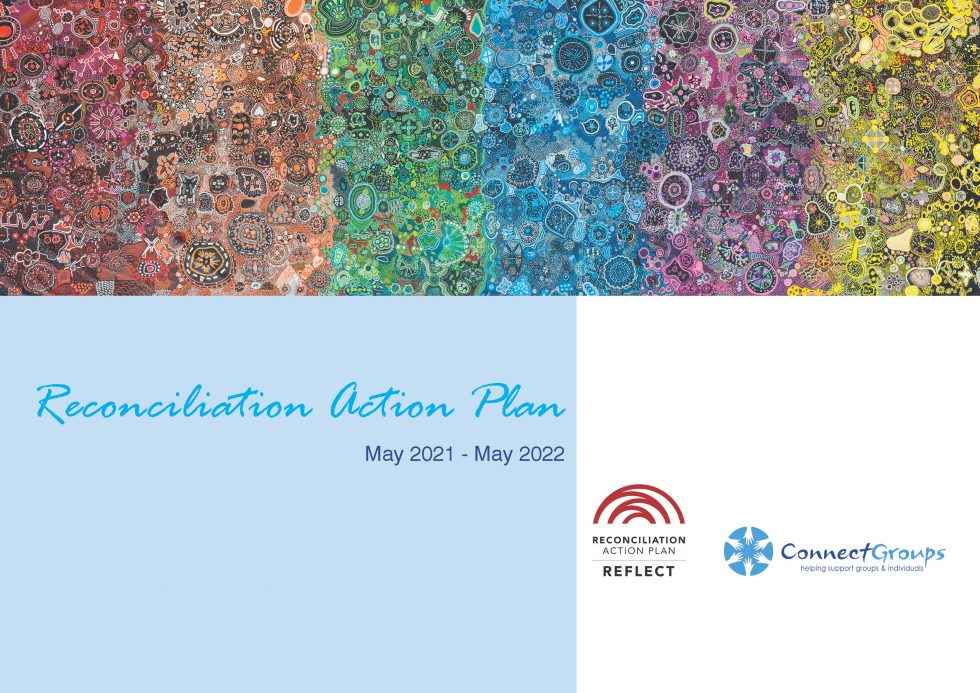 Behind the Artwork
The beautiful artwork which illustrates our RAP was developed as an act of reconciliation between Aboriginal students at St. Catherine's College Dandjoo Darbalung in collaboration with St Hilda's School for Girls. Students and Staff participated in a series of workshops run by Dandjoo Darbalung students. They discussed the importance of family while learning about the 6 Nyoongar seasons. Each student created their own interpretation of what family meant for them before recording it on the canvas. Together they created the giant canvas symbolising the importance of community and the sharing of knowledge.